About
I am an experienced florist and horticulturist. I offer a personal service to ensure your special day, party or event is beautifully decorated with fabulous flowers!
Whether it's creating the all important bridal bouquet, a beautiful archway to set the scene, a room full of fresh and colourful table decorations or just sprucing up the house for your Christmas guests, you can discuss your ideas with me and find out how my experience and creative ideas will enhance your plans.
People use flowers as a theme to story tell their event, whether they are large formal arrangements or hedgerow rustic with my hands on knowledge I can make this happen seamlessly!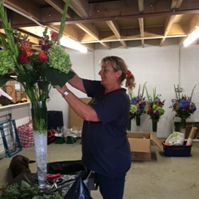 Flower courses
Christmas wreath making course at The Rectory Hotel, Crudwell to book call 07866866670 or email Rachel
3rd, 4th, 5th December 2019 - Christmas wreath making course.I will be hosting a Christmas wreath making course at the Rectory hotel. Welcome champagne, tea or coffee at 10.30am followed by a demonstration of making and decorating a Christmas wreath. You will then make your wreath and after a two course lunch with a glass of wine, tea and coffee, you will decorate your wreath to take it home, to go straight on your door! Finishing time approximately 3.30pm. Cost: £95 per person, register your interest now, full payment required early November to secure your space.